1961 is het interessantste jaar in de Nederlandse Bazooka Joe-geschiedenis:de Nederlandse Bazooka Club wordt opgericht. Die was meteen een succes! Lidmaatschapskaarten werden uitgegeven. De vertaler noemt Henkie (in Amerika Pesty) ineens Sjors! Of kwam er een andere vertaler?

1961 was the most interesting year in the Dutch Bazooka Joe-history. The Dutch Bazooka Club was founded, and an immediate succes! Membership cards were issued. The translator all of a sudden names Henkie (Pesty in the USA) Sjors! Or did a new translator started?

Het was waarschijnlijk ook 1961 toen de Nederlandse H-1 serie werd uitgebracht. Die komt overeen met de Amerikaanse 1-59 serie,al lijken niet alle Amerikaanse gags uit deze serie te zijn gebruikt in de Nederlandse H-1 serie. H staat hoogstwaarschijnlijk voor Holland. De H1-serie telt in ieder geval 42 gags, wellicht meer.

It was probably 1961 when the Dutch H-1 series was issued. The series matches the American 1-59 series, though not all American gags seem to be used.H stands most likely for Holland.The H1-series has 42 gags, perhaps more.

In 1961 kom ik de eerste vermelding tegen van een postbusnummer in België :Postbus 416 in Antwerpen.Ook de omslagen van de kauwgom lijken te zijn veranderd, de tekst is voortaan Young America's favorite! Zie de voorbeeldjes.

In 1961 I came across the first mentioning of a Belgium P.O.Box,P.O.Box 416 in Antwerp. Also the wrappers seem to be changed: No more Atom Bubble gum, but Young America's favorite! (see examples of various wrappers used).

1961 was een jaar vól promotie om zowel de winkeliers als de jeugd te stimuleren om Bazooka Joe kauwgom te kopen.Een greep:Deens bestek voor winkeliers.Dozen Bazooka kauwgom telden 360 stukjes.(de zogenaamde Formal 360-doos).Voor de winkeliers waren er ook waardebonnen van 50 cent. De Bazooka club was heel actief:raamposters,wervingsfolders enzovoort.zie de vele scans en geniet!

1961 was a year full of promotion to stimulate both shop-owners and youngsters to buy Bazooka Joe chewing gum.Just a grip:Danish tableware for shop-owners.Boxes of Bazooka chewing gum contained 360 pieces,the so-called Formal 360-boxes.There were 50 cents-coupons as well for shop-owners,so they could get a discount buying Bazooka chewing gum wholesale. The Bazooka club was very very active:window posters,become a member leaflets et cetera. See the scans and enjoy!

Bazooka Blony was al in 1958 op de markt, en was dropkauwgom. Bella Blony was het meisje dat de promotie van het product deed. Geniet van de afbeeldingen!

Bazooka Blony liquorice gum was already on the Dutch market in 1958, promoted by the little girl Bella Blony Enjoy the promo!

In 1961 deed Bazooka een geweldige zet: ze hadden luchtvaar speldjes die niemand anders had,en die je alleen bij Bazooka kon bestellen!

In 1961 Bazooka made a great move: they offered pins from Air carriers no one else offered. They could only be obtained by sending in Bazooka joe-wrappers!


Joop Geesink studio's maakte voor Bazooka zowel een Mistair legpuzzle in 5 kleuren (30×40 cm) als een Mistairplaat (5 kleuren,70×100 cm). Mistair was een luchtverfrisser van fabrikant Airwick

Joop Geesink studio's made a Mistair jigsaw puzzle in 5 colours (30×40 cm) and a Mistair poster (5 colours,70×100 cm) as well. Mistair was an airfreshener from the Airwick Company.

Twee kleur-variaties, oranje en rode letters. geëloxeerd aluminium

2 colour-variations, orange and red letters. Anodized aluminium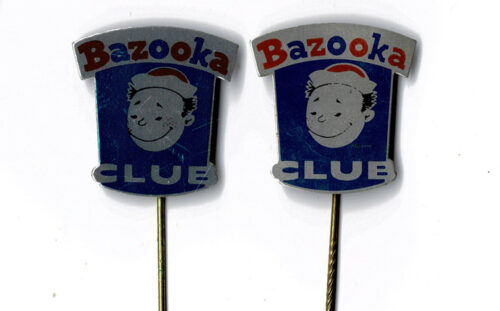 Recent werd in het tijdschrift Robbedoes (nummers 1222,1224,1226,1228,1230 en 1232) ontdekt dat Bazooka kauwgom al in 1961 op de markt was,toen al met premie-artikelen,en een eigen postbus,postbus 416 in Antwerpen!

Recent discoveries in Robbedoes magazine 1961 (numbers 1222,1224,1226,1228,1230 and 1232) showed that Bazooka chewing gum was on the Belgium market,already with gadgets,and their own P.O.Box in 416 in Antwerp !

Bedankbrief voor het ophangen van een promotie-raambiljet (21x 27,5 centimeter)

letter saying thank you helping me hanging the promo-poster (21x 27,5 centimeter)